Drilling Fluids would be one of the important processes of Oil well explorations in the world. in these days and for better results, the companies who are working in this base must have some additives for fluid loss controlling one of the best additives for controlling the fluids loss of Oil Wells would be Gilsonite FLC grade of Asian Gilsonite it will increase the efficiency and strength of oil and hydrocarbon wells too.
Today, Gilsonite can be named as an integral component for mud drilling of wells, which reduces drilling fluids costs and improves drilling performance In addition, Gilsonite does not harm the environment and natural resources and would not be in contradiction with environmental protection laws.
Gilsonite FLC Grade prevents the shape of the well and the damage to the oil well
Due to the chemical and physical composition of the materials along the walls of the oil well, Gilsonite creates a very strong insulator without permeability against drilling fluids.
Gilsonite FLC Grade unique property in terms of its compatibility with the oil wells and the flexibility of Gilsonite prevents fluid leaks and changes in oil wells in reactive clay layers even in the hot temperature of the lower elevation of the wells.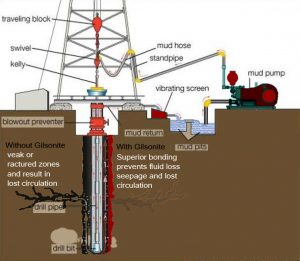 Gilsonite FLC Grade has been proven as a stabilizer to the wellbore
For drilling in pressurized areas, there is a need for different techniques to strengthen the well and drill fluids combined with Gilsonite. 
Adding Gilsonite to drilling compounds has several advantages such as preventing fine fractures in drilling drills and reducing pressure on it, Keeping intact layers intact, Increasing the level of the filtering layer, Create an insulating layer continuously without breaking through the walls of the oil well.
Gilsonite FLC Grade is the best drilling material to prevent differential locking of the drilling machine
Gilsonite reduces the number of drill bits in high pressure and high humidity areas, minimizing pressure and improving moisture content, and increasing the life span of the drilling machine.